Luang Phor Thuat Lek Lai Amulet of Wat Putai Sawan
A Rare and Extremely Beautiful Phra Luang Phor Thuat Lek Lai , made from magically extracted Sacred Lek Lai Nam Neung See Peek Malaeng Tap amulet, from Luang Phor Huan's World Famous 2548 BE Lek Lai Summoning Ceremony. This Lek Lai Luang Phor Thuat image, formed in the Meditation posture, was charmed into existence by Luang Por Huan of Wat Putai Sawan during ritual invocation of the Sacred Lek Lai in the Holy Cave, summoning the Lek Lai to take on various forms.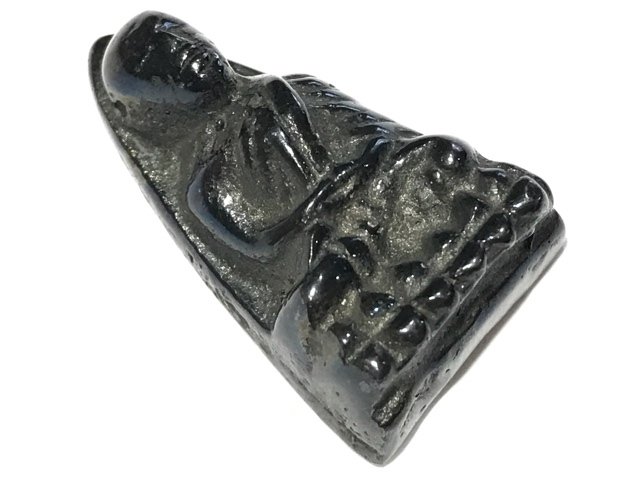 The image is made from Lek Lai Tham (cave lek Lai) which has been extracted using the ancient magical Wicha (some forms of Lek lai are manually extracted and do not possess the same super powers as that extracted by a pure hearted monk with powerful Wicha). This amulet is pure Lek Lai Nam Neung (first class cave Lek Lai) and is 'See Malaeng Tap' (a purplish metallic color).
This is done by anointing (bathing) the piece of Lek Lai in honey ,as it is still in its raw Mineral form, and then heating it under a powerful flame, until the Lek Lai hidden within it liquifies and runs out of the stone, to come and eat the honey.
The Lek Lai is coaxed into dripping down in a thin long line, and then it is cut using a special consecrated cutting instrument, such as a Meed Hmor spirit knife. It is believed that it is not possible for any person to cut Lek Lai, for the Lek Lai is guarded over by the spirits and Devas of the Cave and the Forest, as well as the local Yaksa giants who protect it.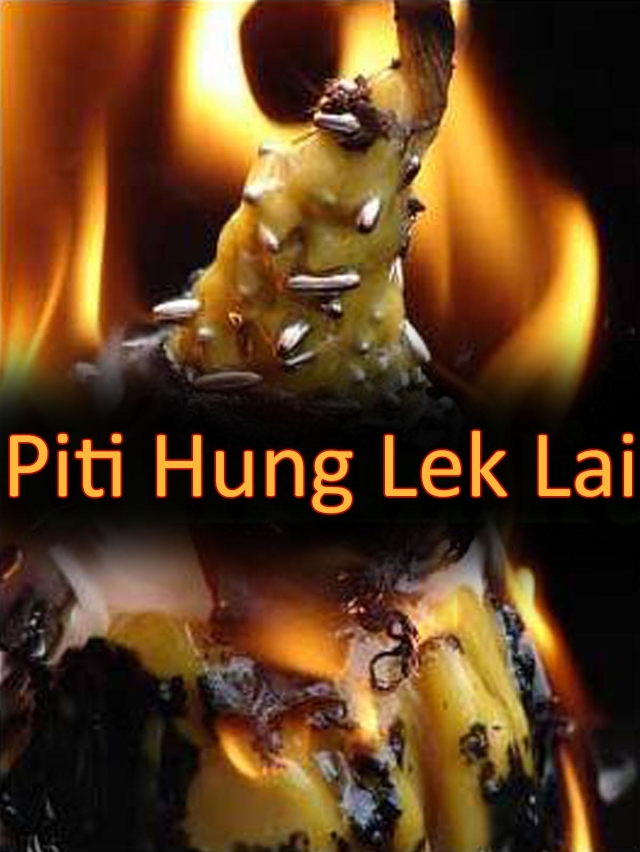 In addition, the spirit within the Lek Lai is extremely powerful and can harm the person who tries to cut it. It is said that the person who cuts the Lek Lai must not only learn the Wicha, but also have gathered enough Merit to be able to approach and cut the Kaya Siddhi Element.
Whoever is lucky enough to receive the protection of Lek Lai, will be impossible to harm or kill with bullets, knives or other sharp instruments, and even explosions.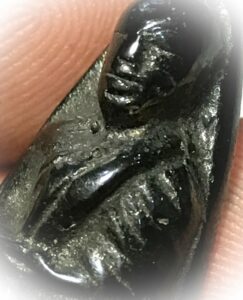 Lek Lai Tham
Gunpowder or other such explosive materials can not come close to a piece of Lek Lai and are repelled by its Adamantine Nature. In addition, Lek Lai protects from poisonous animals such as Mambas, Cobras and the like.
If there is any form of Lek Lai, or place where it is said that real Lek Lai should be found, it is the Cave. Before the Public Interest in Lek Lai began some years ago, Lek Lai was almost always assumed to come from caves in mountain forests. It is said that Lek Lai of the type found in caves can be stretched when heated, and coaxed into different forms, such as the Pra Somdej Lek Lai of LP Huan.
Kata Luang Phor Thuat
Kata Bucha Lek Lai
The subject of Lek Lai, and all the different kinds in existence, is one of the topics explained in Ajarn Spencer Littlewood's Buddha Magic Issue 5
---